The 2022 World Series of Poker International Circuit Caribbean is gearing up for the business end of the festival and the second female champion has been crowned. La Sengphet not only reached her fourth final table of the series but earned her sixth WSOP Circuit ring in dominating fashion after coming out on top of a 247-entry strong field in Ring Event #8 $400 Black Chip Bounty.
For her efforts, Sengphet earned the biggest slice of the $56,810 cash prize pool and numerous $100 bounties along the way. Known to most players on the WSOP circuit as "La La", the Texas based grinder defeated Benjamin Thomas in heads-up, who had to settle for a consolation prize of $9,000. Also featured on the final table was Richard Figiel, Keith Hart and Italy's Simone Miracoli.
The top 21 finishers earned cash prizes along with their previously earned bounties and especially the money bubble turned out to be an intense affair. Sengphet's route to victory wasn't free from bumps and bruises, some of which she suffered during a boat trip just prior to the restart. As a matter of fact, she showed up half an hour late and the same also applied for Joseph Hebert and Michael Lech who were on the same boat trip.
When all was done and dusted, Sengphet was the table captain as she dominated the action with a bigger stack for nearly the entire final day.
Final Table Result WSOPC Ring Event #9: $400 Black Chip Bounty
| | | | |
| --- | --- | --- | --- |
| Place | Winner | Country | Prize (in USD) |
| 1 | La Sengphet | United States | $15,000 |
| 2 | Benjamin Thomas | United States | $9,000 |
| 3 | Jacky Beauvais | France | $6,500 |
| 4 | Bashar Ramahi | Canada | $4,700 |
| 5 | Richard Figiel | Canada | $3,600 |
| 6 | Sacha Mimouni | France | $2,750 |
| 7 | Keith Hart | United States | $2,100 |
| 8 | Simone Miracoli | Italy | $1,660 |
| 9 | Carlos Manuel | Dominican Republic | $1,300 |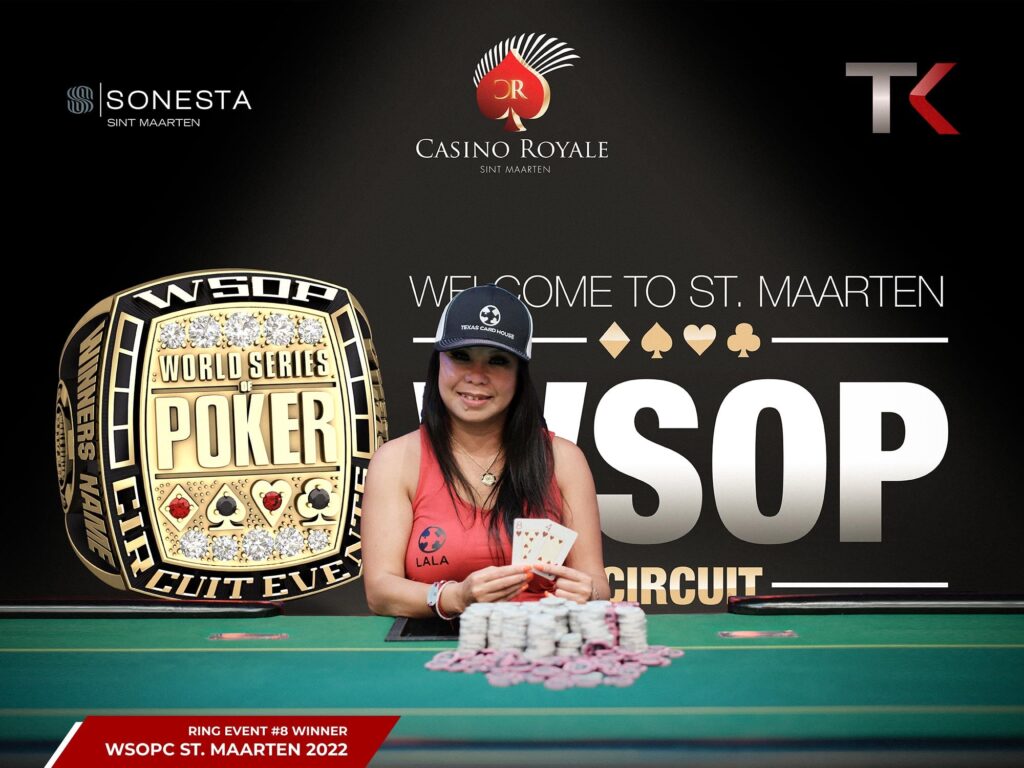 Only 33 players returned for the final day and by the time Sengphet made it to the poker room of the Casino Royale, the money bubble was already looming. Sure enough, she got straight to work and knocked out French comedian Ahmed Sylla to earn her first bounty of the day. Other notables missing out on the cash prizes were Dessiree Bennett, Sean Stoll, Jim Willerson, aforementioned Joseph Hebert and Ricardo Cheng A June.
The money bubble itself was a very tense affair as multiple double-ups resulted in several players getting very short. Ultimately, it was Julian Rollocks who became the unfortunate bubble boy when his second forced all-in brought no joy anymore.
Within the next few minutes the field was reduced at a rapid pace and the early casualties in the money included Michael Lech, Gaetan Balleur, and Peter Hajszan. Lech jammed a suited king on the button and was reluctantly called by Ethan "Rampage" Yau in the big blind, who was trailing with queen-jack but improved to trips jacks. Yau was also responsible for the knockout of Rajesh Jhangiani when he came from behind with king-jack versus ace-king.
Alex Dijkhoffz was denied a shot a potential second WSOPC ring during the ongoing series when Carlos Manuel made broadway in a three-way all-in showdown. Next to fall soon after was online vlogger Alexander Seibt, quickly followed by Yau who became the next victim of Sengphet. She then soared into a big stack when her king-jack turned two pair and the king-queen suited of Cedric Adam found no help anymore.
Russell Ramuten finished as the final table bubble-boy and the final nine were lead by Sengphet, who held two times as many chips as her nearest opponent. That happened to be Carlos Manuel, who ran with jacks into the queens of Sengphet and further cemented her status as the table captain. Her attempt to knock out two opponents with jack-nine suited was only a temporary setback as Sacha Mimouni rivered a flush to claim the bounty of Simone Miracoli.
Keith Hart had a kicker problem with ace-jack against the ace-king suited of Benjamin Thomas and the same also applied to Mimouni with ace-six against Sengphet's ace-king suited. Richard Figiel and Jacky Beauvais doubled through Beauvais thereafter before they clashed against each other. Figiel's ace-king was up against pocket jacks and the overcards bricked.
The lead of Sengphew grew even bigger with the knockout of Bashar Ramahi, who jammed six-deuce blind on blind and came up short versus ace-jack suited. Perhaps the most significant setback for Sengphet was the double up of Thomas in short-handed action when her hero-call with a pair of sixes was no good, since Thomas had already flopped a set of fours. Beauvais then became the far shortest stack and ran with ace-four into the pocket aces of Thomas.
Heads-up action saw both contenders for the coveted gold ring nearly even in chips and the lead changed back and forth. Ultimately, Sengphet made a back door flush and Thomas bluff-jammed the river with the nut flush blocker to get snap-called. It was the fitting end to a dominating performance by Sengphet, who now has half a dozen WSOP Circuit rings on her resume.
One day later, she went on to bag up the lead on Day 1a of the $1,700 Main Event and showcased once more her very impressive performance during the series on Sint Maarten.